If you were on holiday in Gran Canaria, you probably noticed a four-engine aircraft shut down at the El Berriel Bay and Bahía Felíz resort from the highway or the old GC-500. Although the aircraft is in the colors of the Canary carrier Binter, it never flew for this company.
This silent witness to the history of Spanish aviation has been resting in its place in Real Aero Club de Gran Canaria for over 40 years. Before the aircraft found its place in Gran Canaria, during its active operation in the aviation has replaced several carriers. How did this legendary DC-7C get here?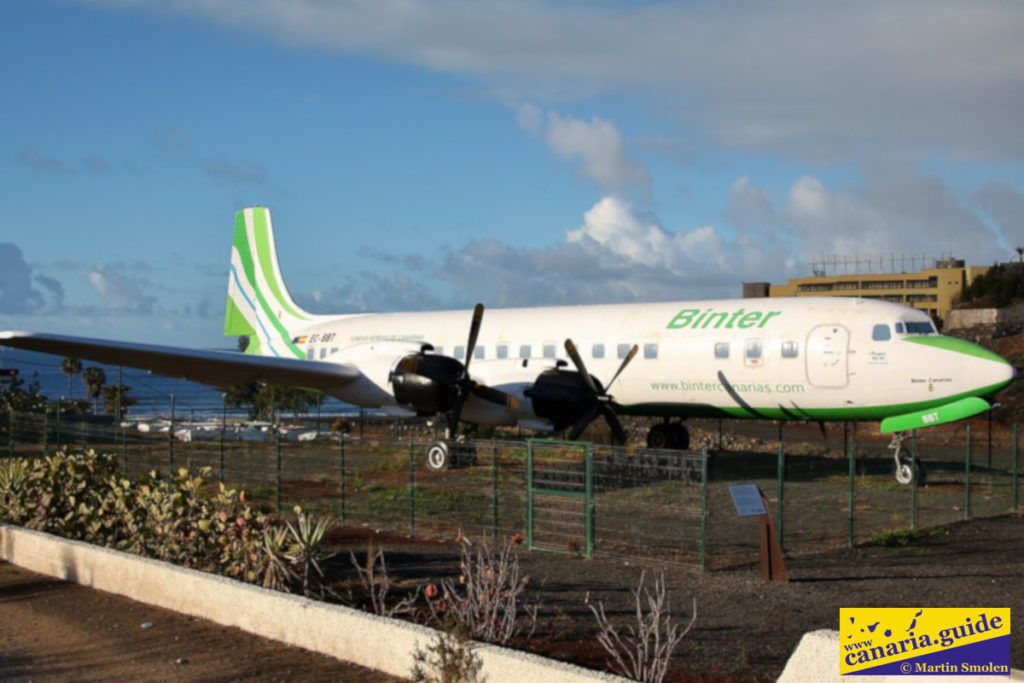 First flight
It was year 1958, and the aviation world experienced its boom. Swissair needed more and more aircraft to secure its transatlantic flights to the US. Therefore, it decided to buy a new modern aircraft, which should serve just for flights to the US. On November 4, 1958, a new DC-7C aircraft with serial number 45553/1038 from the US company Douglas Aircraft Corporation landed at Zurich Airport. Swissair bought the aircraft for 9,935,000 Swiss francs. At the Swissair's service, the aircraft designated HB-IBP was less than four years.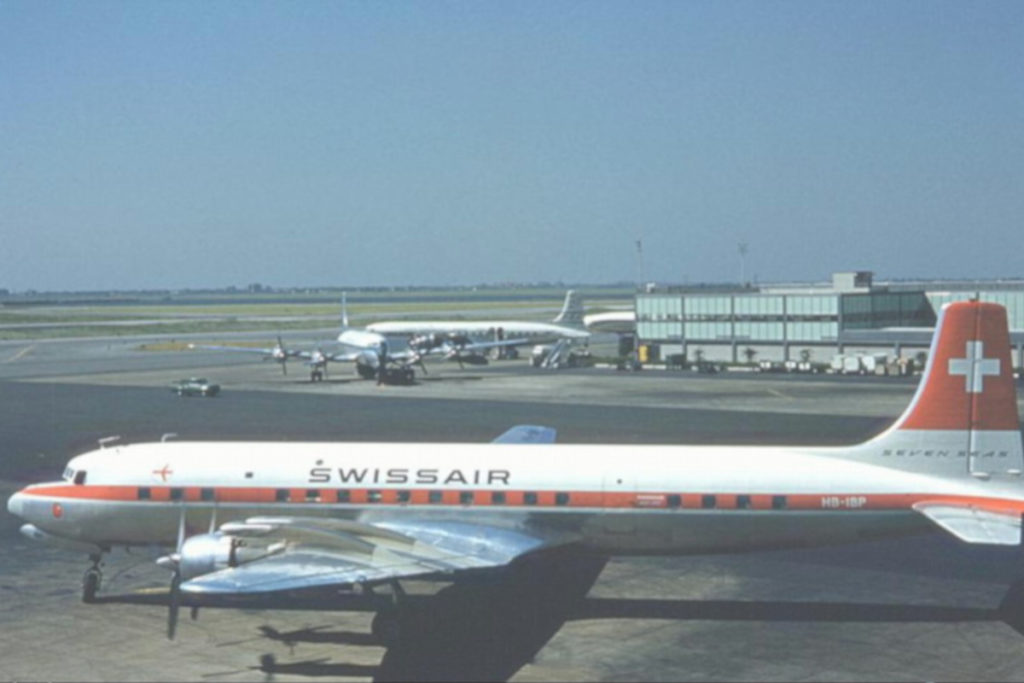 January 6, 1962 was the plane transferred to Scandinavian Airlines Service. In this airline he receives the SE-CCH registration code. At SAS, this Douglas also got its first name, Erik Viking. The SAS service, however, the aircraft did not warm up for a long time and already in September of the same year again changes owner.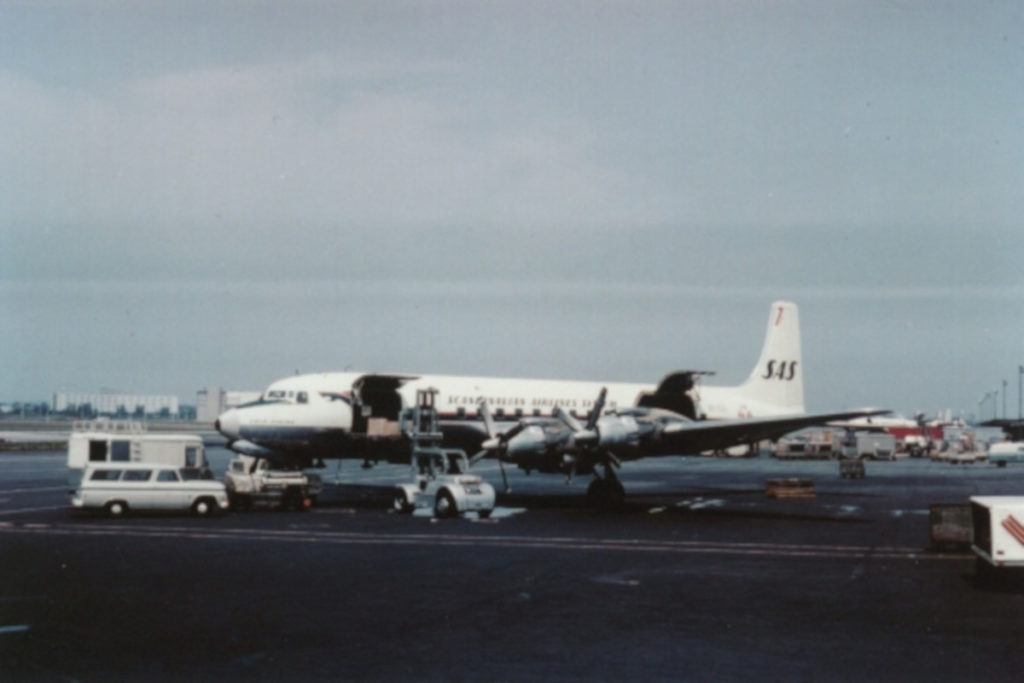 Japan Air Lines became the new owner. The aircraft was assigned a new registration JA6306 and also received a new name City of Hong Kong. The aircraft was designed for flights between Tokyo and San Francisco and Los Angeles with a stopover on Honolulu. JAL operated this aircraft until 1965.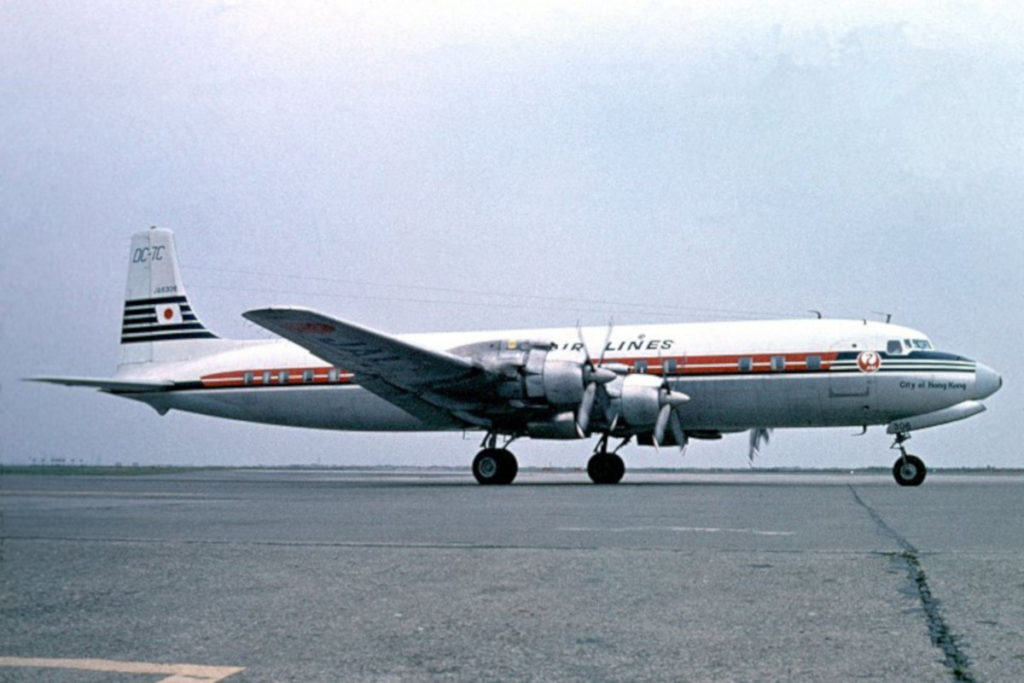 Return to Europe
In August 1965, the aircraft returned to Europe. It was purchased from the Japanese company by the Spanish charter company Spantax, founded in 1959 by Rodolfo Bay. Becomes part of the fleet with the designation EC-BBT. Spantax purchased an aircraft to transport tourists on longer distances without a stopover. During its operation, it mainly connected various African destinations and the Middle East. The aircraft was in regular operation until December 1976. In March 1978, the aircraft was completely out of service and grounded at its parent airport Palma de Mallorca.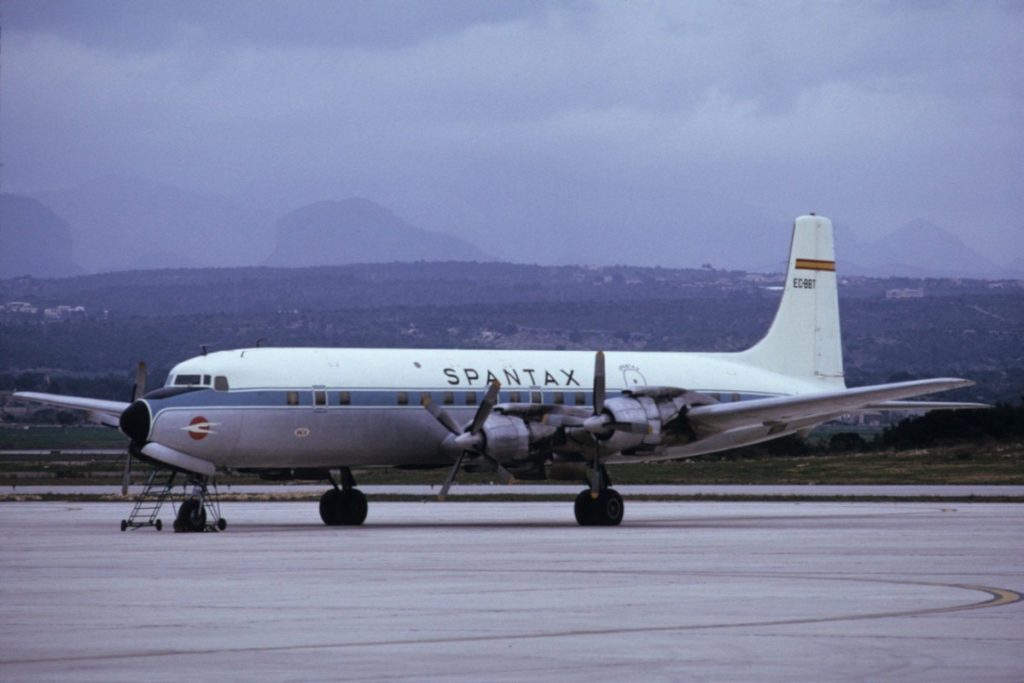 New home
In 1979, Rodolfo Bay decided to donate a non-operated aircraft to the Real Aero Club de Gran Canaria. On Gran Canaria, the aircraft came "on its own", but a major problem was its transportation to the place in the aeroclub. The transfer from Gando base to El Berriel eventually took place by sea, using floats, which were placed under the cabin and wings.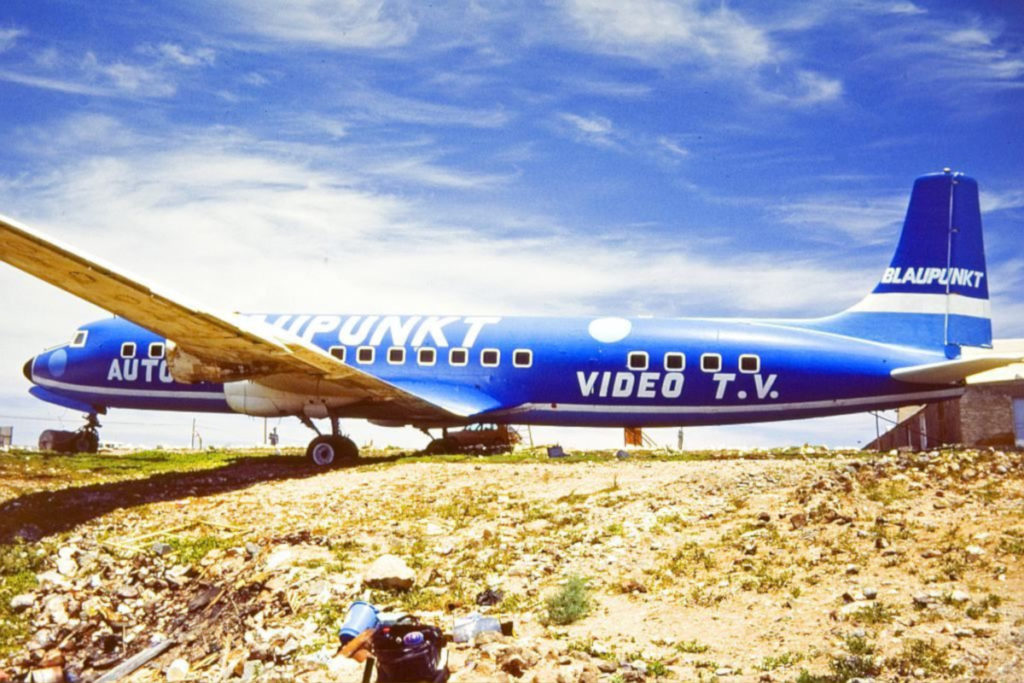 The aircraft has several changes since its current location. At first, it served as an advertising banner and received multiple advertising coatings. For some time, this rare aircraft was more like a scrap dump. In 2015, however, it was once again in full glory. Binter financed the complete refurbishment of the aircraft, including the paint, of course in Binter's colors, although it was never in its service.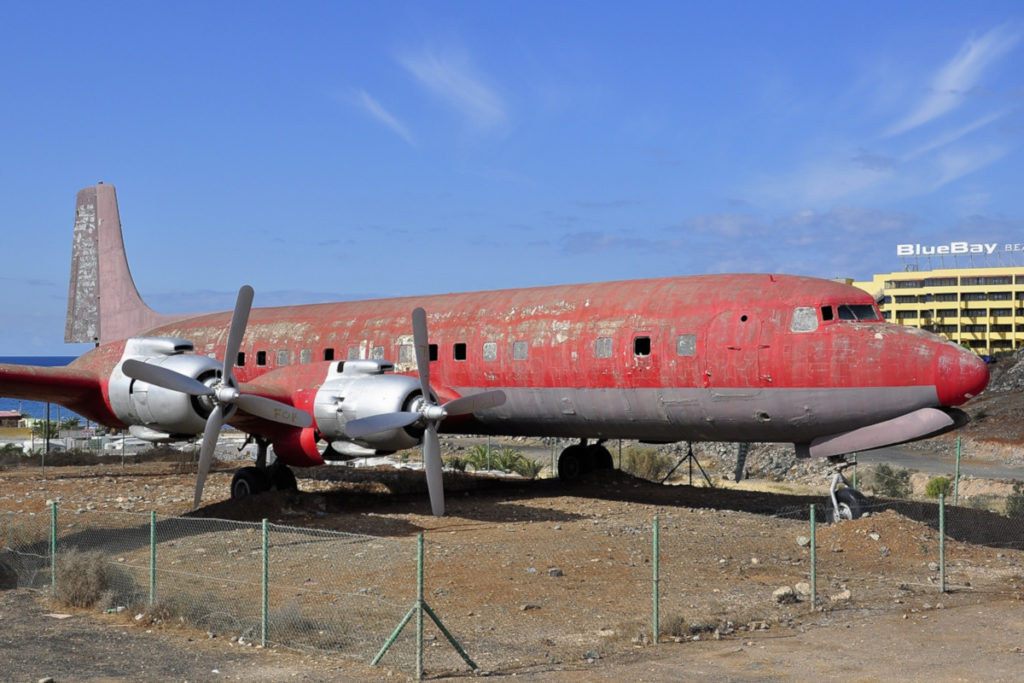 According to Douglas Aircraft Corporation, 338 DC-7 aircraft were produced in different versions, 72 of which were EC-BBT versions. 75 aircraft were discarded due to various technical causes and accidents, 239 were discarded due to their age, 24 aircraft were not recorded. Five aircraft remained as museum exhibits, among them the EC-BBT aircraft.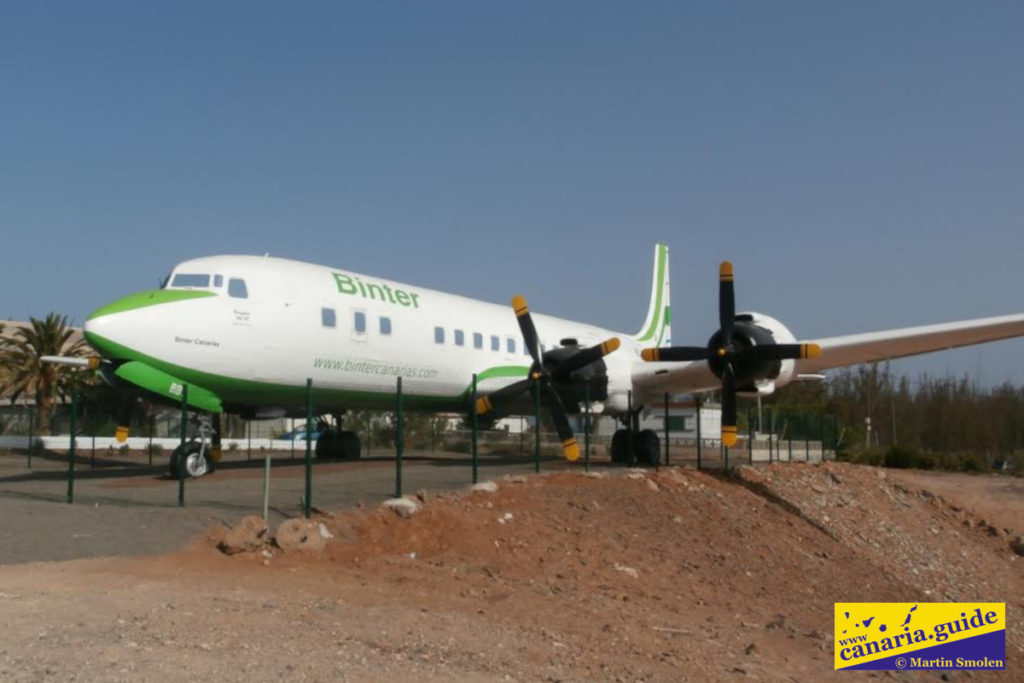 The aircraft has a length of 34.58 m and a wingspan of 38.86 m. Powered by four P&W engines, each with a power of 3,350 hp (2,498 kW), allowing him to travel at 550 km / h and travel altitude of 20,000 feet (6,100 m). In the original version for Swissair, the aircraft had a capacity of 75 passengers. Spantax converted the aircraft to a higher capacity of up to 102 passengers. The distance the aircraft flew without a stopover was 6,450 kilometers.
Smaller friend
However, the EC-BBT is not the only aircraft on Gran Canaria that reminds of aviation history. In the village of Carrizal is a former aircraft of the Spanish Air Force Casa C-212. It served in the 461st squadron at Gando base in Gran Canaria. In October 2004 it had an accident in Lanzarote. Subsequently, it was transported back to Gran Canaria and since 24 April 2007 it has been exposed on a hill opposite the airport and military base.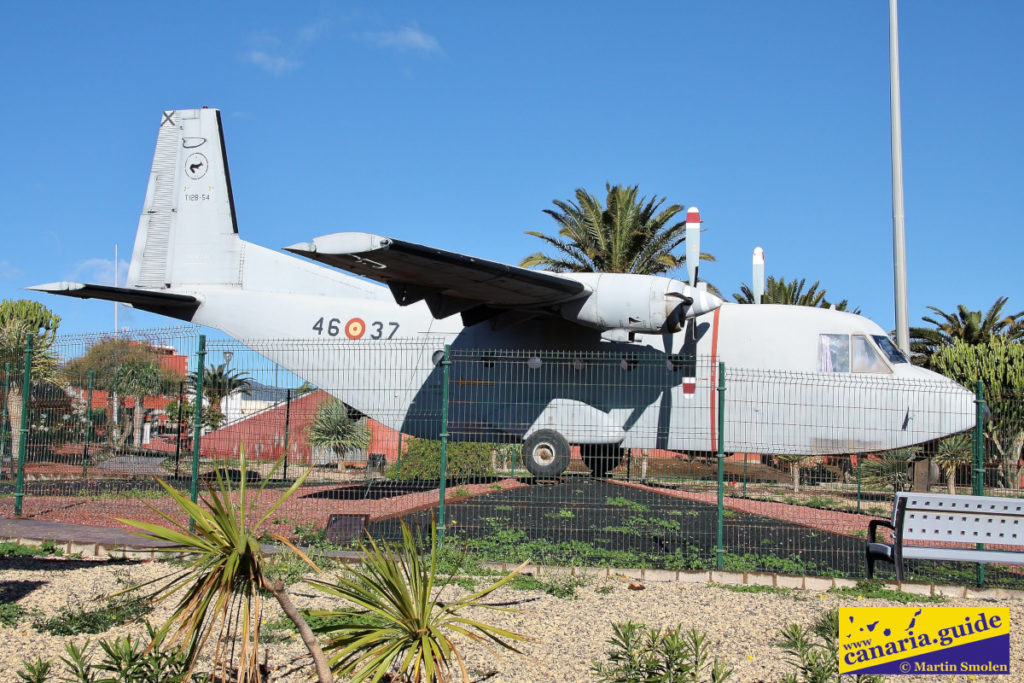 Did you like this article, was it useful to you? You can also support the creation of this website by sending any amount to ES08 0049 5735 1122 1616 5370, swift BSCHESMM. Include "Canaria Guide Support" in the note. Thank you for supporting.